About Us
MISSION
Image
The Diamond District Partnership (47th Street BID) is a not-for-profit, tax-exempt Business Improvement District (BID) formed in 1997 by a group of Diamond District business and property owners to enhance the commercial activities and atmosphere of New York's 47th Street Diamond District. Our efforts ensure a safer, cleaner, more pleasant working and shopping experience every day for the millions of people who work, shop, and visit the 47th Street Diamond District each year.
SERVICES
Image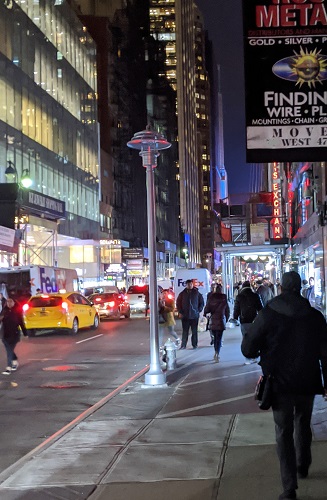 The Diamond District Partnership achieves our mission by providing various supplemental services including: security and sanitation, seasonal decorations, streetscape improvements, marketing assistance and publicity for the district, and continued promotion and support for all 47th Street Diamond District property owners and merchants.
CHAIRMAN—Steven Grauer, Gold Art 18 KT LLC
PRESIDENT—Harvey Nagin, Nagin Jewelry
TREASURER—Yale Zoland, Zoland's
SECRETARY—Dennis Marlow, Solitaire Creations
Adnan Aydin, Futurama Jewelry Exchange
Brunilda Katsichtis, Premier Realty, Inc.
BOARD OF DIRECTORS
Alan Aydin, Altin Group
Gary Barnett, Extell Development Corp.
S. David Belsky, S. D. Belsky Associates
Emily Bukucuyan, Pico Jewelers
Ilan Elishayev, SYU Properties, llc
Jack Elo, The Elo Group
Jules Fleischer, Jewelry by Alexander
Suneesh Keerthy
Jay Holzer, Dyckman's
Christopher Ipek, Altin Realty
Ben Krischer, Esskay Gems
Elliot Krischer, Diamond Dealers Club
John Magzalcioglu, Diamond Club International
Michael Oistacher, Manhattan Gold & Silver
Gary Weinshank, Delage Jewelers
GOVERNMENT OFFICIALS
Eric Adams, NYC Mayor
Brad Lander, NYC Comptroller
Mark Levine, Manhattan Borough President
Keith Powers, NYC Council Member
COMMUNITY & INDUSTRY ORGANIZATIONS
Michael Toback, MJSA
Ronnie VanderLinden, U.S. Jewelry Council
Pete Webb, Community Board #5
EXECUTIVE DIRECTOR
Avi Fertig
Audited Financial Statements
Annual Budgets & Financials
Membership Signup
The Diamond District Partnership / 47th Street Business Improvement District (BID) is a non-profit organization established to provide important supplemental services to elevate the commercial viability of the Diamond District.
All property owners, commercial tenants, and residents of W. 47th Street between 5th & 6th Ave. (excluding 580 Fifth Avenue & 576/578 Fifth Avenue) are eligible to become registered members.
** PLEASE NOTE: There is no cost or fee to become a Registered Member. **
Membership entitles you to vote for various issues related to BID operations at our annual meetings, serve on the board, and receive timely information related to the Diamond District, and a special "FIRST LOOK" at our official publication—Diamond District Monthly.